Puzzling Places: Patreon - Legacy Support
Long-term support for legacy Patreon puzzles.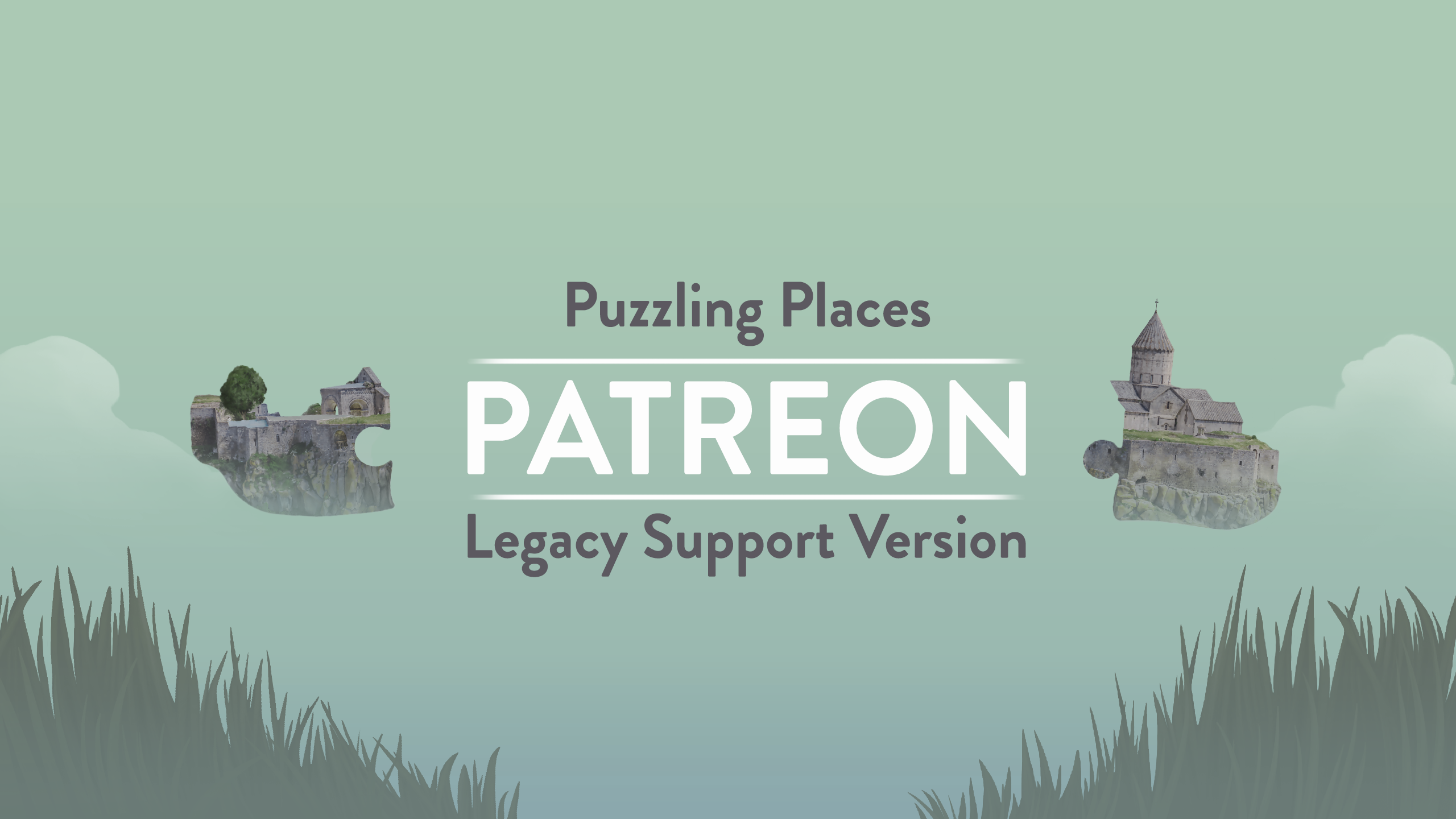 Today, we released Puzzling Places update v1.6 which was built using a newer version of Unreal Engine - the game engine we use to develop Puzzling Places with.
The update includes improvements like faster app startup time, faster Oculus pause menu accessibility and responsiveness, as well as a bug fix allowing Quest 1 players to load as many puzzles as they want.
Unfortunately, as a byproduct of us upgrading the underlying Unreal Engine version, legacy Patreon puzzles cannot be installed in Puzzling Places v1.6 (as well as all future versions).
To make sure you will be able to continue playing the Patreon puzzles, we are releasing "Puzzling Places: Patreon - Legacy Support" through Oculus App Lab, a long-term supported version of Puzzling Place specifically for former Patrons to be able to install and play their Patreon puzzles.
The app is free to download, includes all the features we have built so far and is essentially a copy of the game you are playing with right now but without any puzzles installed.
Basically, we are freezing the previous version of Puzzling Places (v1.5) and through our long-term support, make sure that it remains functional for your patreon puzzles. However, do note that as a result of our Unreal Engine upgrade, this app will not be able to receive any new features we develop for the main Puzzling Places game, since those features are possible due to the newer version of Unreal Engine.
To transfer and install your Patreon puzzles into the new Puzzling Places: Patreon - Legacy Support app, please follow our instructions listed here. As the Patreon has been discontinued since August 2021 and inaccessible since  
Why did we need to do this?
For transparency purposes, we would like to share with you why we decided to do this upgrade. For all of us it is important that you can continue playing the Patreon puzzles in the newest version of Puzzling Places, so the decision was a hard one. We tried our best to try and find a workaround, but it was just not possible. Here are the advantages that lead us to this decision:
Access to new developer tools: Features from Oculus like Passthrough mode are not available in older versions of Unreal Engine so, in order to be able to experiment and implement features like that, we had to upgrade.
Getting access to new Unreal Engine features: Unreal Engine is always getting better in each version by increasing its stability and adding new features. For example, One thing we are now exploring is using newly available compression algorithms to reduce the size of the puzzle files.
Reducing our overhead and productivity: to develop the Playstation VR version of Puzzling Places, it was a requirement to use the latest version of Unreal Engine. Keeping two versions of the game on two different game engines would really affect our development productivity and reduce the rate of new features and puzzles we can make for you.
As we have said in the past, we hope that someday we will re-release and re-master some of our favorite patreon puzzles officially to the main game. However, Until then, the Patreon long term supported branch will be available for you to play the old patreon puzzles in!
What about the Puzzling Places: Beta app?
If you still have the original Puzzling Places: Beta app installed with all the Patreon puzzles, you can absolutely continue to play them there! However, do note that the Beta app is not downloadable from the Oculus Store anymore, so make sure to not uninstall it if you'd like to continue using it!