🎁 New FREE Puzzle - Blue Temple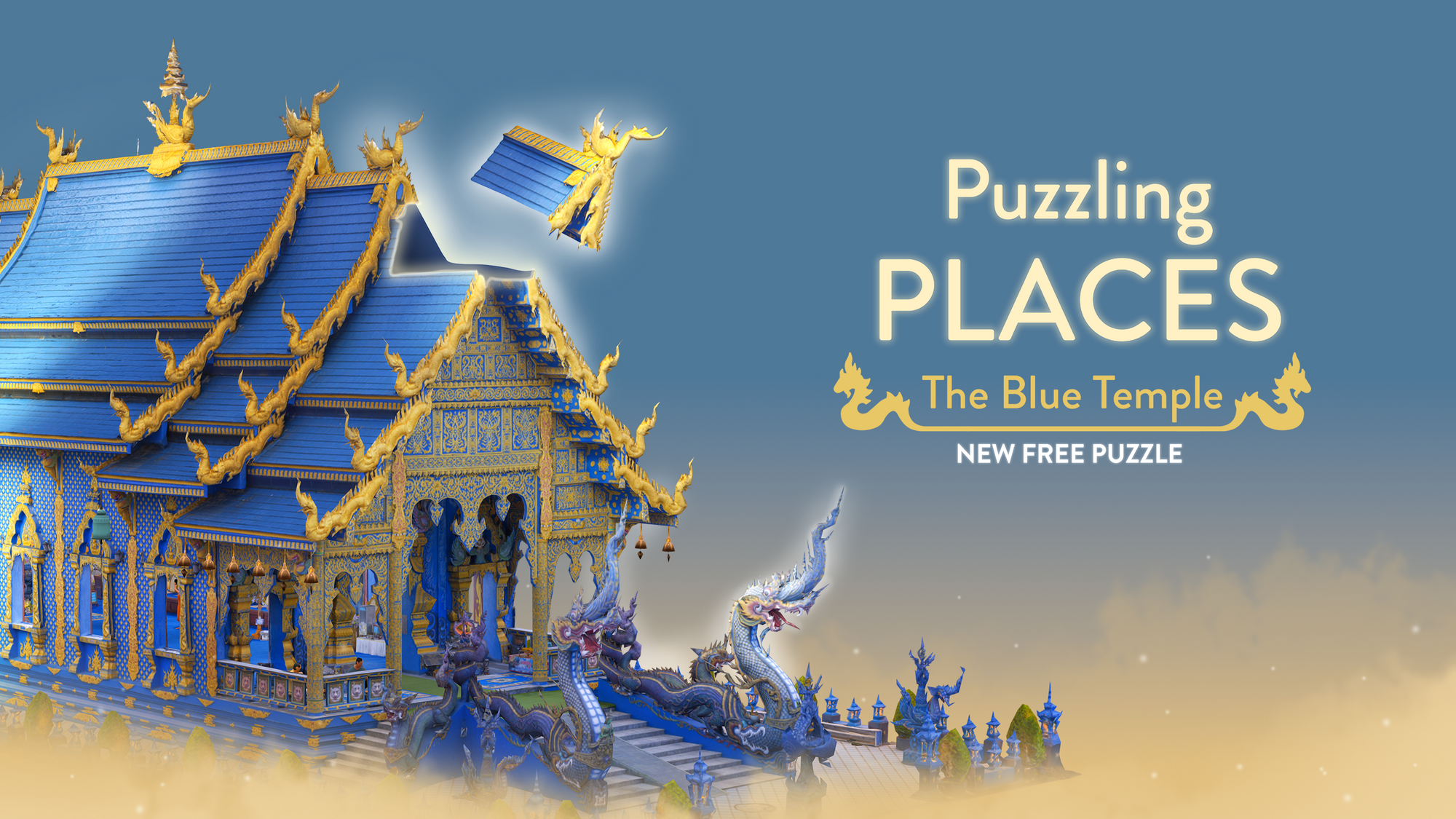 Take a deep breath and join us on a meditative journey to the spiritual land of Thailand through this brand new FREE puzzle!
The "Blue Temple" is available today in the game on both Quest and PS VR headsets for free!
We know just how much you all love colorful puzzles, especially ones that are a combination of interiors + exteriors, so as the next free puzzle, we chose an incredibly colorful Buddhist Temple including both its interior and exterior!
Blue Temple:
Location: Chiang Rai, Thailand
Scan by: Aaron Cederberg [1]
Max. 400 pieces
Premium Audio
Being a "Premium Puzzle", it contains all the goodies we introduced in our latest Premium DLC, 'Behind High Walls':
Tiny diorama scenes and easter egg characters.
Scene animations (like swaying chimes).
Premium audio - custom soundscapes and regional sound effects, which build as you continue to finish the puzzle.
---
Puzzling Places - Update v1.12
In update v1.12, the following changes were made:
Improved puzzles menu sorting: new puzzles will always be listed on the top.
Bug fix: updated and cleaned-up puzzle tags, fixed a few Store UI issues, etc.
Refer to the changelog for the full details.
---
Puzzle Background
Designed by Putha Kabkaew and built upon the spiritual remnants of an ancient temple, the construction of the Blue Temple was completed in 2016 in the mountainous region of Thailand's Chian Rai province.
The "Blue Temple", also known as the "Temple of the Dancing Tiger" mixes traditional Buddhist and Thai architecture with contemporary design elements: the vibrant sapphire hue of the walls and the roof complimented by gleaming gold trim is guarded by incredibly detailed statues of mythical Buddhist creatures.

The temple's interior is just as vibrant as its exterior: the walls are covered with paintings depicting stories from the life of the Buddha, who is stealing the spotlight in the form of a seated statue made of bright porcelain.
The puzzle of the Blue Temple contains 9 characters, dioramas, and hidden easter eggs. Here's a couple of hints to get you started: 🐅🤳🎐
---
Dev Chat #6 - Blue Temple Update
Tomorrow, Friday, August 19th at 9 AM Pacific, we'll be hosting a live Dev Chat podcast in our Discord with our game designers to talk about how we made this beautiful puzzle as well as special guide, Aaron Cederberg, our photogrammetry partner who traveled to Thailand to 3D scan the temple!
We'll be sharing some fun stories of the temple in real life, how it was captured, and fun little details about how we made this puzzle!
If you can't watch us live, we'll upload the recording of the Dev Chat podcast to our Youtube channel, so make sure you subscribe!
---
Attribution and Licenses
[1] The "Blue Temple" puzzle was created using a photogrammetry scan by Aaron Cederberg